Equipment Needed to Start a Snow Plow Business in 2022
Starting a plowing business in 2022 can be an expensive endeavor, especially if you aren't prepared with how you're acquiring your equipment or planning for future expenses. Luckily, DMC Wear Parts has an extensive inventory of snow removal equipment, plows, and more, all at affordable pricing. Contact a DMC Wear Parts expert for more information on how to get your snow plow fleet up and running for the winter ahead!

Upfront and Ongoing Expenses in Snow Removal
Some of the upfront costs of starting a snow removal business include purchasing a vehicle, acquiring one or multiple snow plows that fit onto your vehicle, buying cutting edges for different terrains, and purchasing ice melt and a salt dispenser.
Plowing involves a good deal of ongoing expenses too. Snow removal can be very tough on your vehicle as well as your other equipment, so expect to be paying for lots of replacement parts and maintenance over the years. Additionally, you'll want to be sure to purchase insurance to keep you and your business safe in case of an accident. Some ongoing costs to expect include:
Vehicle maintenance
Replacement cutting edges
General liability insurance
Salt or ice melt
Gasoline
Consider Making an Equipment Checklist to Start
One way to help keep track of essential equipment for snowplow businesses is to keep an equipment checklist. Not only can it help you to visualize the size of the costs, but it can also help you keep a budget in mind.

How Do Snow Plow Businesses Make Money?
Considering the amount of cash that goes into starting and maintaining a snowplow business, it seems tempting to wonder how, if at all, these businesses can be profitable. Indeed, some seasons can be rough in terms of cash flow for some plows depending on weather, how much clients are willing to pay, and this even can be chalked up to dumb luck at times! However, a snowplow business can certainly earn a decent living as long as they keep their costs low and their customers happy.
Start small, and don't purchase more than you need to right out the gate. It can be wise to make use of what you already have, like a truck, and keep in mind that your business will take time to build. It may not work out if you purchase a dedicated skid steer, tons of plow styles, and an extra-expensive blade right out the gate if customers don't know your company.
Charge enough to make a profit, keeping in mind the costs incurred by all of the equipment. People outside of the plowing industry may balk at common plowing quotes, but it does require many man-hours and can take a toll on your truck and your equipment.
You may even want to consider subcontracting at first to get a feel for the job. Many plowing companies in areas that receive a lot of snow will search for drivers that can take up extra work – if you want to make money plowing snow before starting your business, you may want to consider this route before taking the plunge.
Equipment that a Snow Plow Business Needs
Snow Removal Vehicle
Purchasing a snow removal vehicle is the very first step to starting a snow removal company – it's the piece of equipment for snowplow businesses that all of your work hinges on. For this reason, it's essential to pick a durable, powerful vehicle that can operate well in low temperatures. Additionally, your vehicle needs to be able to handle a larger plow attached to it, or else you may not be able to make efficient work of clients' properties.
Truck
If you're starting a snowplow business from scratch, a truck may be an excellent option for you. In fact, you might already own a truck that is suitable for plowing. While a truck might not be as powerful or heavy-duty as a dedicated skid steer for plowing, you can potentially save on start-up costs – especially if you aren't sure about the volume of work you'll be taking on. Heavy-duty trucks are great options for snowplow and accessory attachments; a DMC Wear Parts expert can help you find the exact parts that fit your truck so you can be sure that your snowplow rig will be working in top condition all winter long!
Skid Steer
Skid steers are another excellent choice for a snow removal vehicle. They are powerful and relatively versatile in terms of attachments and functions. While a skid steer may be a bigger commitment if this is your first foray into jobs involving heavy machinery, they might be a more economical choice if you would like to do other jobs using your skid steer during the off-seasons. Most skid steers can be fitted with many different attachments, such as pallet forks, backhoes, mowers, and many more. Having work to do beyond the wintertime is critical to the profitability of a snowplow business – few plow businesses have snow removal as their only business venture. Additionally, skid steers can be fitted with snow plow attachments, which can make easy work of large snow plowing jobs.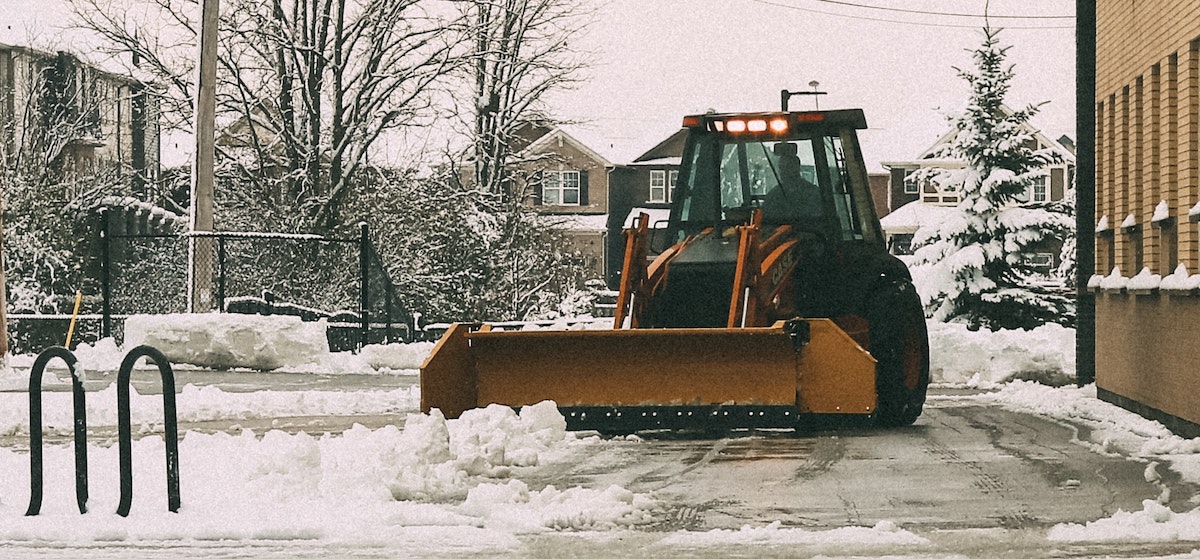 Snow Plow Blades
When starting a plowing business, it's essential to purchase more than one cutting edge to have in your repertoire. Different jobs will require different snow plow cutting edges depending on the terrain, temperatures, and job requirements.
Steel Blades
Steel is a common material for snowplow blades because they are often rust-resistant, strong against built-up snow and hard ice, and can do a thorough job scraping up ice that has frozen to the ground. However, steel is tough on roads, making it a bad fit for plowing jobs in residential areas or on special pavement like driveways or decorative paving.
Steel cutting edges often come with the plow as a default edge due to its relative versatility. While they aren't as gentle as rubber blades nor as durable as carbide snow blades, they represent a middle ground that makes them an excellent general-purpose cutting edge that can handle several different terrain types.
Rubber Blades
Rubber cutting edges are another common choice, as they can handle extremely low temperatures without sustaining much damage. Additionally, they are very gentle on roads and pavement, making them a good choice for plowing in residential areas that require a gentle plow job.
Unfortunately, however, rubber blades are very flexible, which means that they may wear out faster than other blade types. Additionally, they often leave a thin layer of snow on the ground because their lack of rigidity makes them bad for scraping ice and snow directly off the ground, requiring an additional application of salt to melt any remaining snow.
Carbide Blades
Carbide snow plow blades are essentially beefed-up steel blades. They're used for similar jobs, but they boast greater durability and a more robust cutting surface. They can be used to cut through solid, packed-in ice and snow, and they will likely require far fewer replacements over time due to their strengthened design. However, they can be very damaging on roads, making them a poor choice for residential or driveway plowing. They are best suited for heavy-duty commercial uses.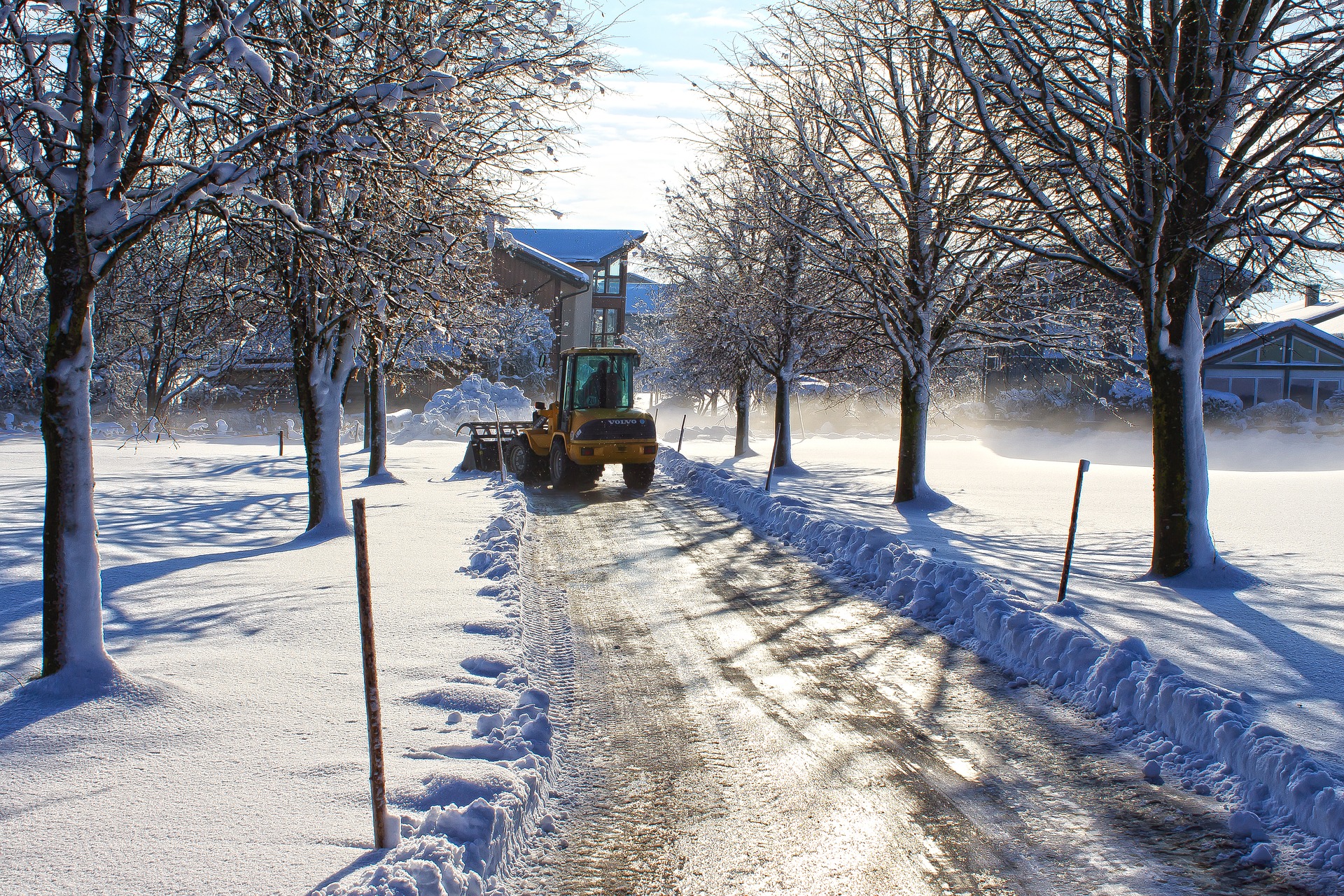 Other Equipment for Snow Plow Businesses
Snow Melt / Salt Dispenser
Two other vital expenses include a steady supply of ice melt and a salt dispenser that can be affixed to the back of your truck or skid steer. Salting the road that you'll be plowing ahead of time can make your job that much easier, as it can help prevent a hard layer of ice from forming if applied correctly.
Additionally, if you have used a rubber cutting edge, snowmelt or salt can help you finish up the job without risking damage to the driveway or road once you've plowed the top layers of snow away.
Ballast for Your Truck (if needed)
If you're starting a plowing business using a pickup truck, it may be wise to consider investing in some sort of ballast for your truck. After all, you're affixing a very heavy piece of equipment to the front end of your vehicle, which may put your truck at risk of tipping over. For a ballast, you might want to consider using sandbags and purchase a ballast retainer to keep your vehicle's weight safely secured in the very rear of your truck bed. weight safely secured in the very rear of your truck bed.
Contact a DMC Wear Parts Snowplow Expert Today
Are you looking to start a snowplow business? Want guidance on maintaining a plowing truck or skid steer? Need new parts? Contact a DMC Wear Parts expert today! We'll help connect you with the right replacement parts for your vehicle, no matter what model, and help to keep your snow plow business running in tip-top shape.